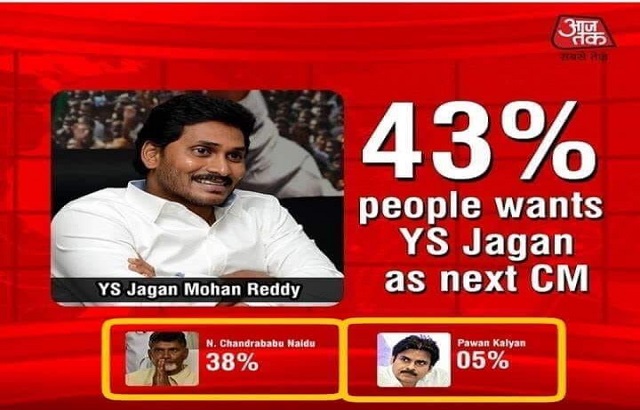 ---
Recently a top national media channel Aaj Tak and India Today done a survey on current situation on AP Politics about whom AP people wants to see as next CM, and the results were shocking.
YS Jagan à 43%
Chandra Babu Naidu à 38%
Pawan Kalyan à 5%
Andhra Pradesh Chief Minister Mr. N Chandra Babu Naidu is at 38% and is trailed with 5% by his opponent and present opposition leader Mr. YS Jagan Mohan Reddy who is at 43%, whereas Janasena party chief Mr. Pawan Kalyan is at 5%.
GVL Narasimha Rao who participated in the debate on behalf of BJP party said that Andhra Pradesh is the only state in India where people wants opposition leader as their next CM rather than the present Chief Minister.
As there is 7 months to general elections, this survey will be just a warning call to both TDP and YSRCP as there is only 5% difference in them, and still there is a chance for both the parties to boost up or down their popularity.
*Source collected from online portals and electronic media