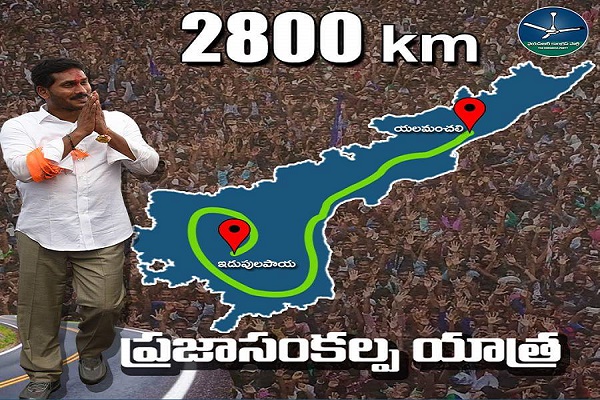 ---
YSR Congress Party chief YS Jagan Mohan Reddy completes 2800 kilometres of Praja Sankalpa yatra at Yelamancheli, Vishaka district on 24thof October 2018. By these feet YS Jagan will be remembered as the only politician in south India for doing such a remarkable pada yatra in recent times.
Previously there were two people who done long pada yatra in the Telugu states, one is his father former Chief Minister of Andhra Pradesh Late YS RajaSekher Reddy in 2003, YSR walked for a distance of 1450 kilometres in a span of 3 months, after that present Chief Minister of Andhra Pradesh Mr Nara ChandraBabu Naidu in 2012 walked for 2500 kilometres, surprisingly both the leaders has won the elections and came to power. Now YS Jagan Mohan Reddy has crossed their achievement and going to set up a new bench mark with Praja Sankalpa Yatra, sources say that the pada yatra is yet to cover 3 more districts and might take 2 more months and might cover 500 kilometres extra.
If this happens YS Jagan Mohan Reddy will be the only politician from South India to complete the longest walk in a single state.
*Data and image collected from various online sources.